For best prices, book your tickets online here
Tickets are also available at the front desk during gallery opening hours with limited availablity.
Starting on the 7th December until Christmas, we're extending our Thursday opening hours into the evening!
🗓️ Late Opening Thursdays
🕒 Open until 8pm
The gallery shop is open – perfect for a spot of Christmas shopping!
The gallery has been working on this unique exhibition for over five years which includes more than 250 works borrowed from museums and private collections in the US, Canada, Europe and the Warhol Museum in Pittsburgh. One of the most important and recognisable artists of the 20th century, this exhibition celebrates Andy Warhol's new artistic vision which saw him combine commercial processes with fine art production. He experimented with silkscreen printing on canvas, film, photography, publishing, performance, video and television. Warhol challenged conventional canons in art, dismissing traditional distinctions between fine art and popular culture.
Unique to the exhibition is a section focusing on the work and collaborations both Andy Warhol and Francis Bacon had with acclaimed US artist and photographer Peter Beard, provoking new thinking on the status of these two titans of the 20th century.
The exhibition is curated by Barbara Dawson, Director Hugh Lane Gallery and Michael Dempsey, Head of Exhibitions and is funded by Dublin City Council.
About Andy Warhol (1928-1986)

Andy Warhol was born in Pittsburgh in 1928 to immigrant parents from Slovakia. He moved to New York in 1949, where he became one of America's leading commercial artists. By the early 1960s he had moved into the field of fine art and was exhibiting his Pop Art paintings in New York and Los Angeles. He set up the legendary Silver Factory in the 1960s – a melting pot of creativity – and from here he promoted the rock band, The Velvet Underground. Visitors included the likes of Lou Reed, Bob Dylan, Truman Capote, Marcel Duchamp, Salvador Dali, Edie Sedgwick, Brigid Berlin, and Jane Holzer.

Despite a near fatal shooting in 1968, Warhol continued to be enormously prolific. Over the course of a 40-year-long career, Andy Warhol transformed contemporary art. The power of his work comes from its concentration on fundamental human themes – the beauty and glamour of youth, fame, material culture, the passing of time, and the ever presence of death.

About Hugh Lane Gallery

Hugh Lane Gallery is one of Ireland's leading museums of modern art located on Parnell Street in Dublin's city centre. First opened in 1908 by Sir Hugh Lane as the Municipal Gallery of Modern Art, the gallery houses one of Ireland's most exciting collections of modern and contemporary Irish and international art.

The gallery is also home to Harry Clarke's celebrated stained-glass masterpieces, The Eve of Saint Agnes and Mr. Gilhooley, a panel from the Geneva Window originally commissioned by the Government of Ireland for the League of Nations building in Geneva.

In 1998, Francis Bacon's famous studio was donated to Hugh Lane Gallery by the artist's heir, John Edwards, and Brian Clarke, executor of Bacon's Estate. Hugh Lane Gallery relocated the studio piece by piece from 7 Reece Mews, London to the gallery where it is now permanently on display, preserved exactly as it was.

The establishment of the gallery was one of the most important events in the birth of Modern Ireland and the gallery proudly displays famous Irish personalities in portraiture including W.B Yeats, and Augusta, Lady Gregory, who, with W.B. Yeats, was a founder of the Abbey Theatre, John Millington Synge and AE. Political figures in portraiture include Michael Collins, Eamon De Valera, Edward Carson, and John Redmond

Sir Hugh Lane (1875-1915)

Sir Hugh Lane (1875-1915) was a celebrated art dealer, collector, exhibitor, and gallery director, acknowledged for establishing the Hugh Lane Gallery, the first known public gallery of modern art in the world. He is best known for the impressionist pictures he collected by Renoir, Manet, Degas, Monet, Daumier, Pissarro, and Morisot. He tragically died on the ill-fated Lusitania in 1915 and his legendary support of the visual arts in Ireland continues to be celebrated today.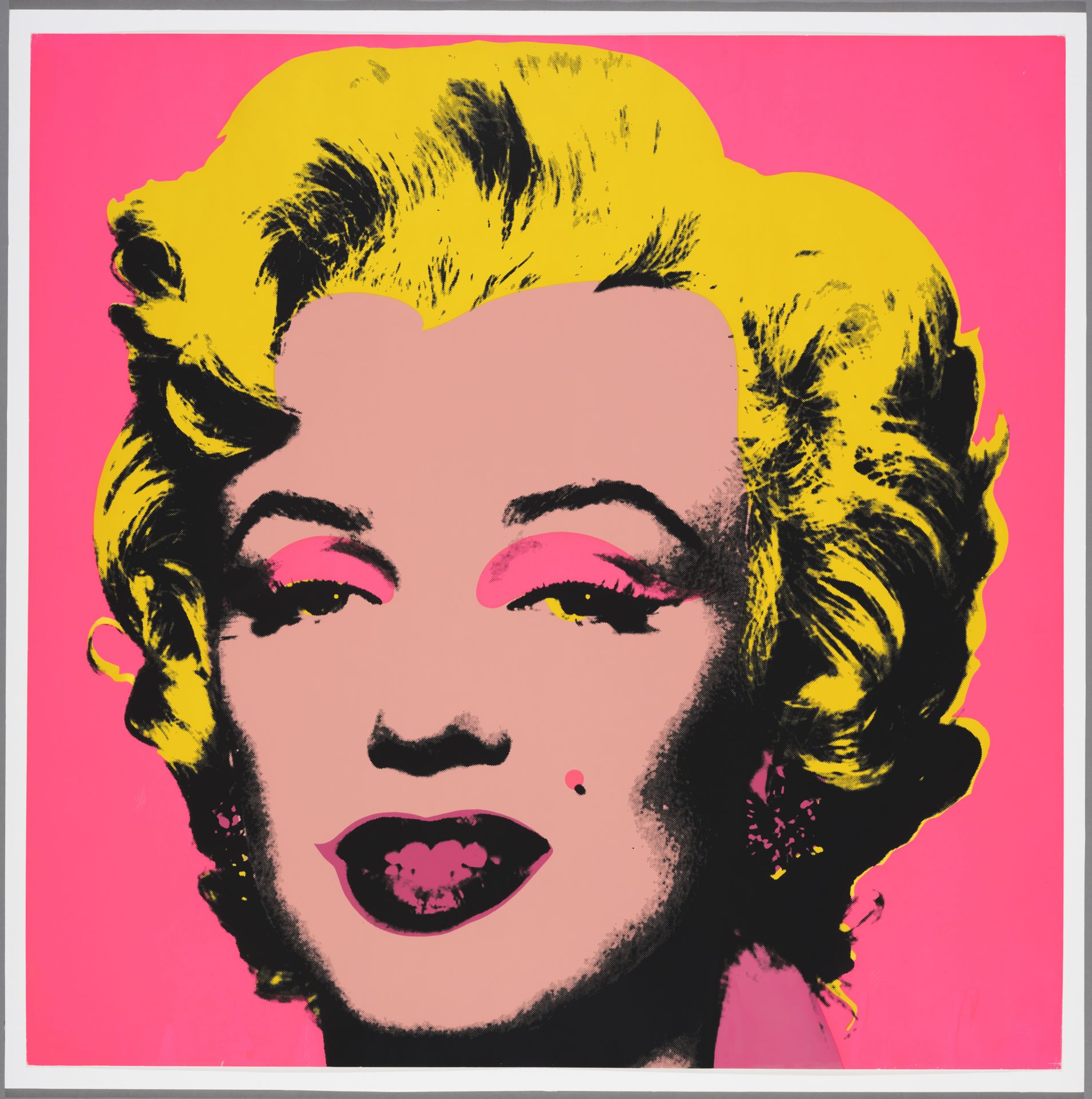 Andy Warhol, Marilyn Monroe (Marilyn), (II.31), AP edition C/Z, 1967, screenprint
36 x 36 in. Collection of the Jordan Schnitzer Family Foundation. Image: Aaron Wessling Photography. © The Andy Warhol Foundation for the Visual Arts, Inc. / ARS New York / IVARO Dublin, 2023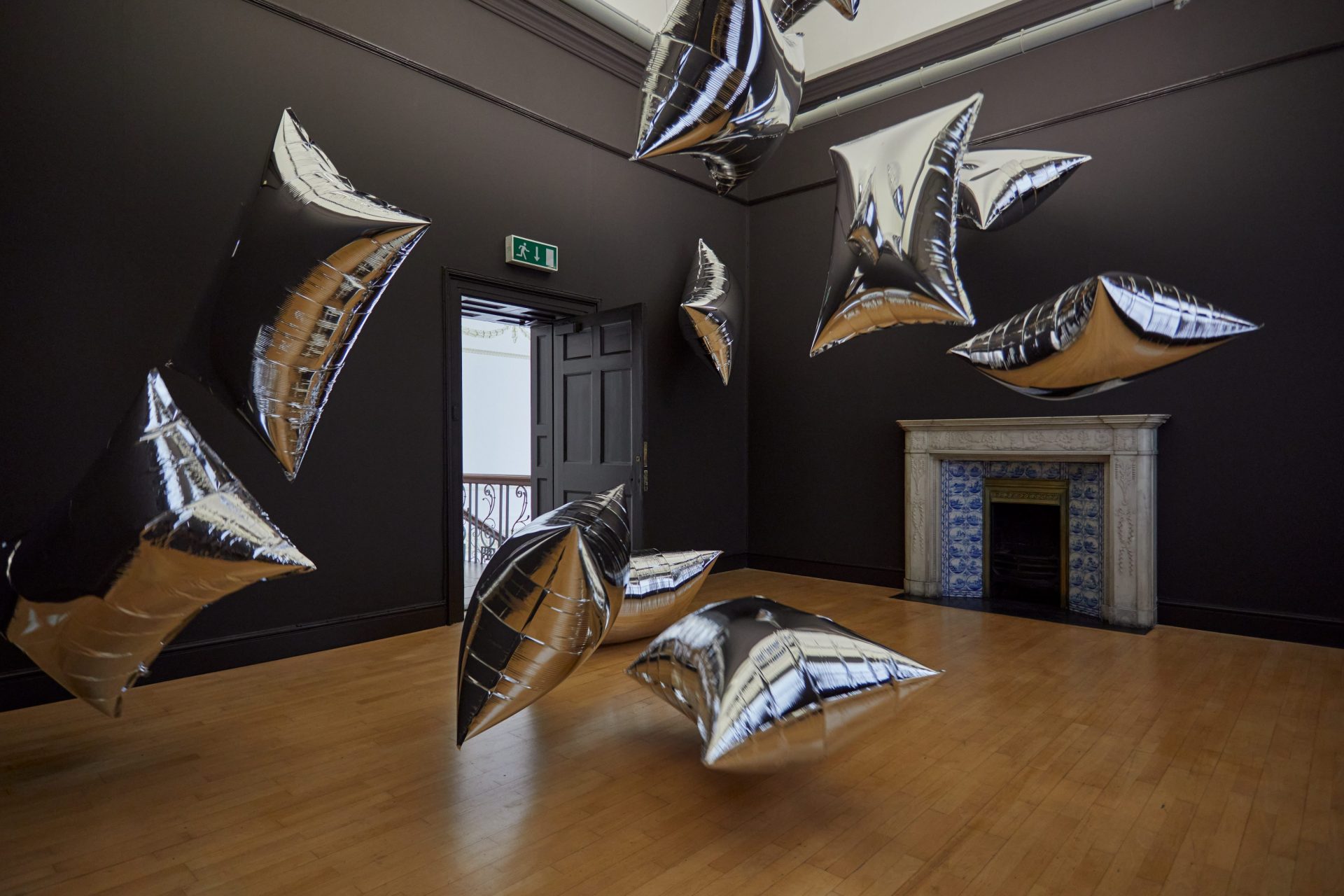 Installation view Hugh Lane Gallery. Photography by Denis Mortell 2023.
After Andy Warhol, Facsimiles of Silver Clouds, 1966 refabricated for The Andy Warhol Museum in 1994 [Warhol Museum Series] in cooperation with The Andy Warhol Foundation for the Visual Arts, Inc. and Billy Klüver Helium-filled metalized plastic film (Scotchpak) Flat: 88.9 × 132.1 cm, Inflated: 81.3 × 121.9 × 38.1 cm. IA1994.13. Original Silver Clouds: The Andy Warhol Museum, Pittsburgh; Founding Collection, Contribution The Andy Warhol Foundation for the Visual Arts, Inc. Facsimile Silver Clouds: © The Andy Warhol Foundation for the Visual Arts, Inc. / ARS New York / IVARO Dublin, 2023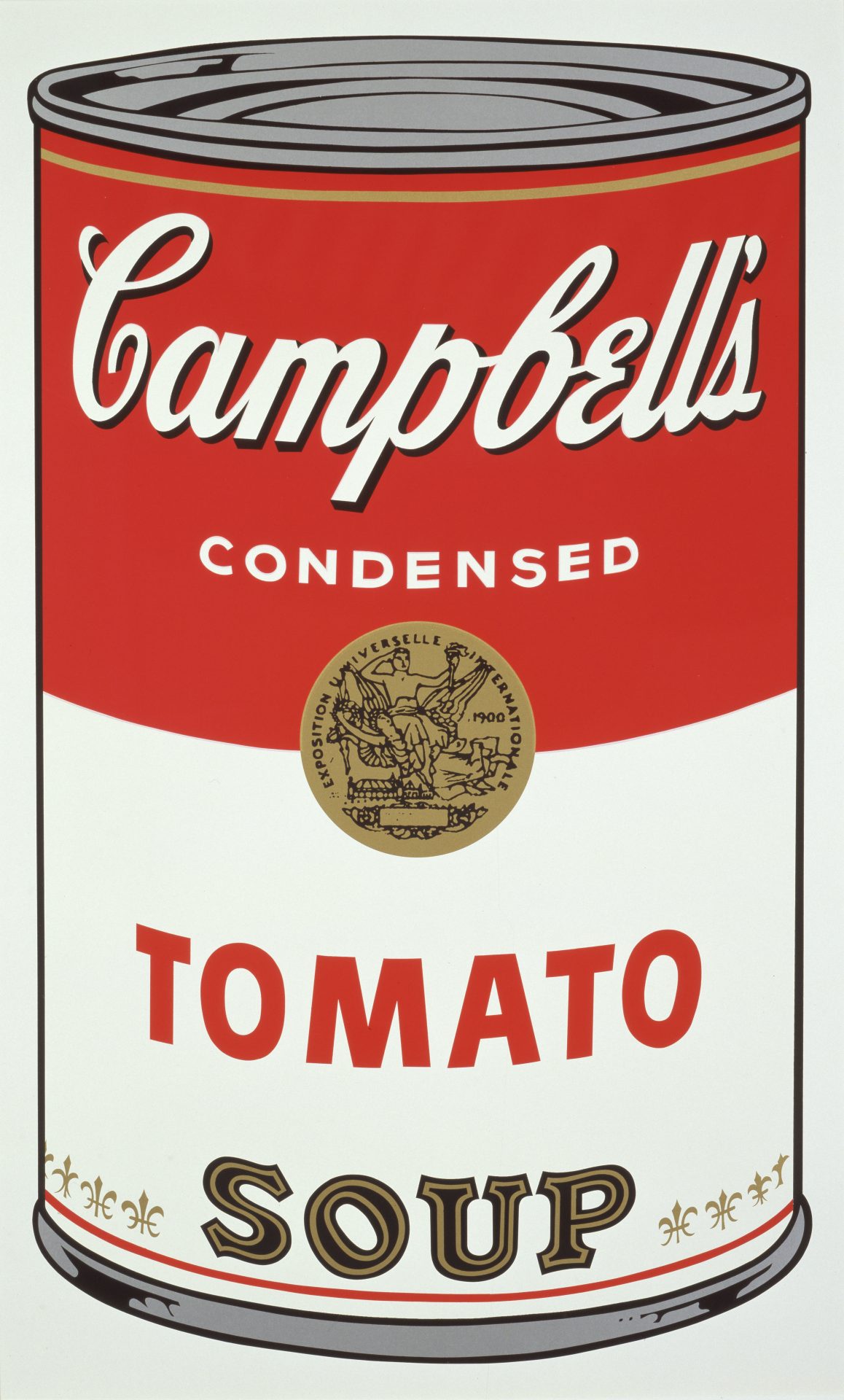 Andy Warhol, Campbell's Soup I: Tomato (II.46), AP edition E/Z, 1968, screenprint, 35 x 23 in.
Collection of the Jordan Schnitzer Family Foundation. Image: Strode Photographic. © The Andy Warhol Foundation for the Visual Arts, Inc. / ARS New York / IVARO Dublin, 2023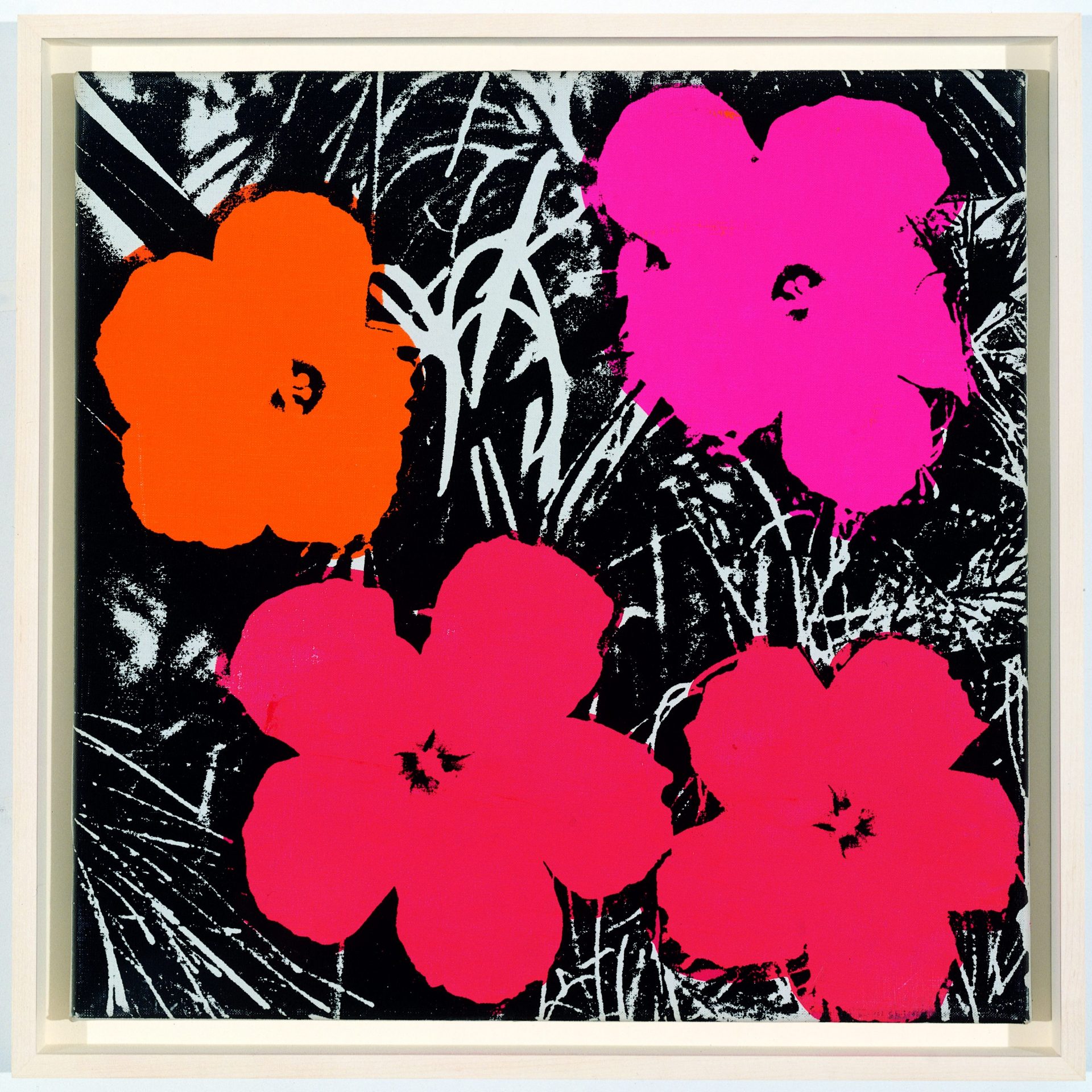 Andy Warhol, Flowers, 1964. Silkscreen on canvas, 60 × 60 cm. AW-0004 F(a). The Sonnabend Homem Collection. ©The Andy Warhol Foundation for the Visual Arts, Inc. / ARS New York / IVARO Dublin, 2023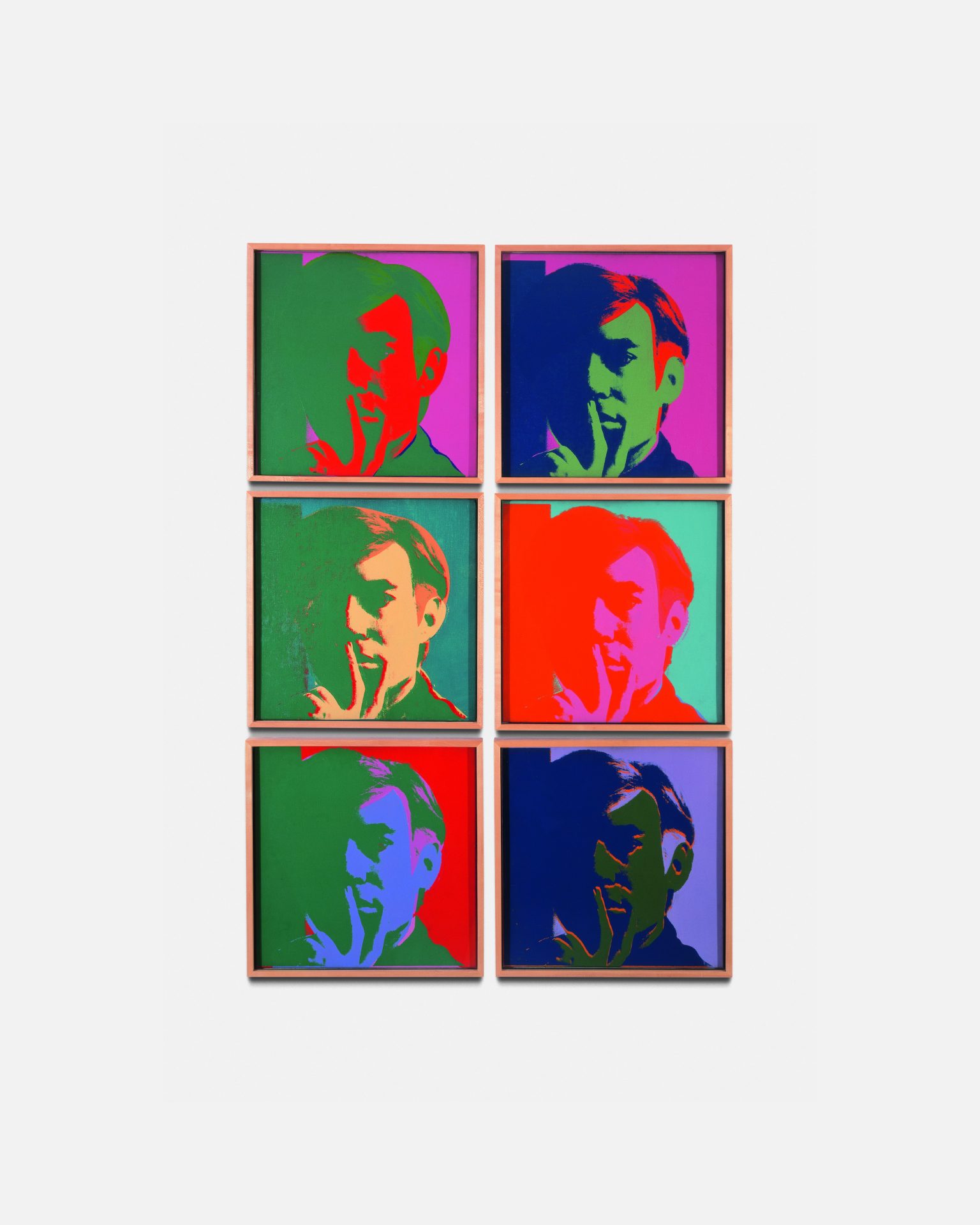 Andy Warhol, Self-Portrait, 1966. Silkscreened synthetic polymer paint and enamel, pencil and ballpoint pen on six canvas panels. Framed, each: 58.4 x 58.4 x 3.2 cm. Accession Number: B-WARH-2P98.16. 1-.6. The Eli and Edythe L. Broad Collection. ©The Andy Warhol Foundation for the Visual Arts, Inc. / ARS New York / IVARO Dublin, 2023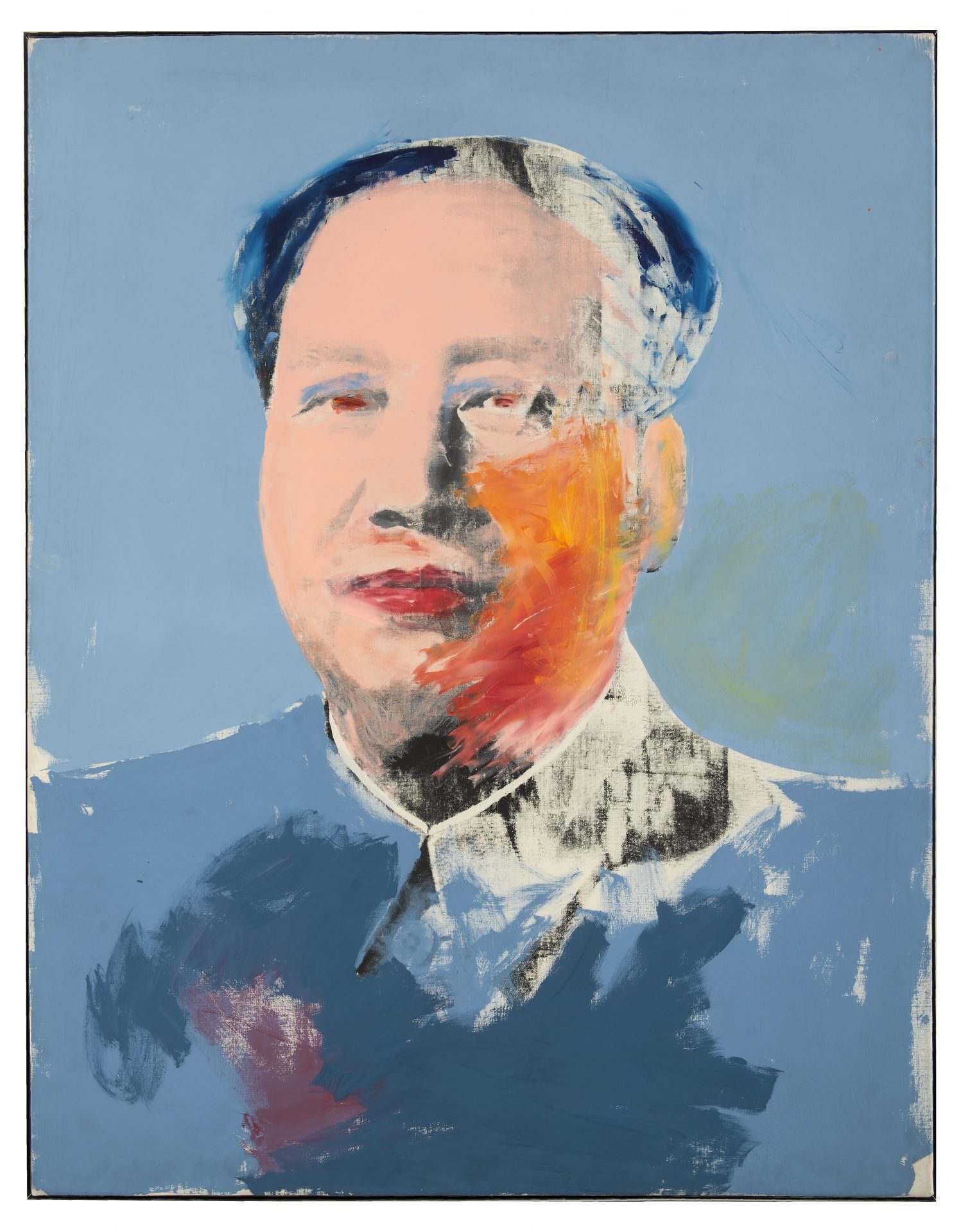 Andy Warhol, Mao, 1972. Acrylic, oil and silkscreen on canvas, 208 × 163 cm. Suñol Soler Collection, Barcelona. ©The Andy Warhol Foundation for the Visual Arts, Inc. / ARS New York / IVARO Dublin, 2023